The Advanced Solution for Partner Performance Management
Ampper is an innovative and complete Solution, specifically designed for Business Users, to easily create and manage incentive compensation plans, to reduce time to market and operational costs.
It is a flexible solution that is easily configurable and adaptable to different business requirements (or application processes) thanks to its core components that enable the measurement, calculation and monitoring of Partner Performance.
E2E Global Solution for Partner Performance Management
Multi-Country, Multilingual, Multi-Company, Multi-Currency
Countries
(Europe, US, LATAM)
of Incentives Calculated annually
Ampper can be tailored exactly to your Company, your Business Processes and your Business Partners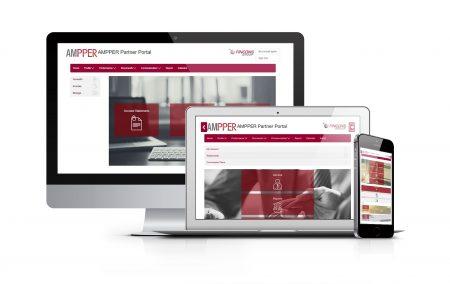 User friendly performance rules creation and modification (no IT skills required)
Calculation of bonuses and penalties for KPI and SLA-based agreements
Continuous evaluation and performance monitoring of Operation Partners enabling real time decision making
Simulation and cost forecasting
Fully trackable performance results and simple-to-view reports
Partner portal for a self-service scenario
Time to market and OpEx reduction for the whole process through flexibility, autonomy and ease of use
Multi-country, multi-company, multilingual and multi-currency solution
Innovative product Roadmap focused on performance management
Available both as SaaS and On Premise
Compliant with the principle of privacy by design for sensitive customer data
Automatic Data Acquisition: integration with SFA, CRM, Billing, Credit systems and other client business systems via API, WebServices or dedicated Connectors.
High adaptability to each Industry or Business Line – Transparency is crucial to finding a competitive edge and to achieving lasting success. Ampper empowers companies in any Industry to gain deeper visibility into performances, trends and real-world insights aligning compensation with corporate initiatives
The Energy & Utilities business landscape is evolving fast. Optimizing Incentive Compensation processes with highly configurable tools is key to competing in today's rapidly changing world.
Financial Services & Insurance
Ampper enables Financial Institutions to gain deeper visibility into performances, trends, and real-world insights to take agile data-driven decisions, reducing turnover in today's hyper-competitive world.
The Media industry is evolving faster than ever. Automating workflows to manage compensations reduces process time and shadow accounting in favour of fast tracks payout.
The Manufacturing industry is changing. Track, analyse and ensure accurate payout incentive bonuses for your team.
Clearly and effectively design and communicate targets and objectives for your pharmaceutical representatives while an error-free payout process.
Retail & Wholesale Distribution
Ampper provides retailers with smart configuration tools to align compensations with corporate initiatives, increasing employee retention.
Managed Partners and Supported Processes
Ampper helps you build compensation practices that motivate your team and increase revenues, by designing Incentive Plans, KPIs and SLAs tailored to all your Partners involved in the customer journey, from the Sales and Acquisition steps to the Field Service and the Post Sales customer support.
Aggregators,
Lead creators,
Promoters
Sales Agents,
Agencies, Web,
Outbound Telesales
Logistics Suppliers,
Installers,
Maintenance & Repair Teams
Inbound,
Customer Support & Retention
Highly configurable core modules measure, calculate and manage business Partner Performance in a tailored, flexible, and fast methodology that is responsive to different business requirements and application processes. We effectively support our customers in identifying the right modules to add on top the base module to address their specific needs.
• Incentive Calculation
• KPI & SLA Monitoring
• Invoice Proposal Workflow
• What-if Scenarios
• Real data Baseline
• Budget & Forecast
• PDF Contract and Addendum Creation
• Approval Workflow
• Incentive Plan Activation
• Salesforce.com Direct Connector
• Real time CRM Data Acquisition
• SFDC Bulk API
• Country specific Topics
• VAT and Taxes Calculation
• Accounting
• Self service Partner Area
• Invoice Proposal Confirmation
• Automatic Invoice Creation
• Automatic Rules Configuration
• Virtual Assistant
• Partner Dispute Management
Flexible solution adaptable to any business process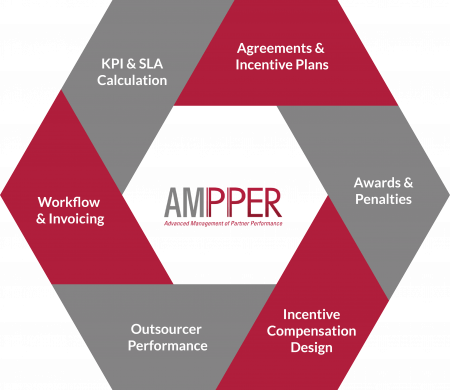 Frequently asked questions
Which Business Processes can be managed with Ampper?
Ampper helps you manage your Incentive Compensations processes: importing legacy system data, calculating and approving payments, automatic recordings of incomes and verifying invoices.
How can I be sure that Ampper matches my Company needs?
Ampper offers cross-sector solutions driven by high adaptability to any type of business, supporting incentive compensation processes based on the best available practice
What kind of Partners Can I manage with Ampper?
Ampper allows you to manage any type of Partner (Salesperson, Technician, Customer Care, Back Office) both employees and external to your organization. Each Partner is profiled on the basis of their contract or commercial agreement, assigning specific targets or incentive plans, based on the processes managed.
How does Ampper integrate with other systems in my Company?
Any integration with your ERP, CRM, Billing, Credit systems and other Legacy Systems can be easily managed via API, WebServices, dedicated Connectors or flat files. Thanks to an automatic Connector, a direct integration with SalesForce.com platform is simple to manage.
What types of incentive schemes can I manage with Ampper?
Thanks to its extensive portfolio of features, Ampper fully supports the Incentive Compensation process, starting with the definition of incentive plans, through to the invoices sent by the partners and the subsequent payment authorization by the Administration Department. Incentive Plans are the set of rules and conditions that establish business organization and Sales Force Partner goals. They provide a benchmark to analyse partner performance and evaluate commission fees to be paid.
Ampper offers a complete library of incentive rules templates that Companies can use for configuring the Partner's Procurement Plans: One-Off Payments, Recurring Payments, Bonus and Penalties and Incentives.
Incentive Plans can be easily designed and configured, without ICT skills.
What is the payment approval and authorization process for my Partners on Ampper?
The whole process of validation and approval of payouts calculated on Ampper can be configured according to your organization's needs with a complete user trackability over planning, execution, auditing and approval of payments..
How can I communicate the payouts calculated by Ampper to my Partners?
With the Ampper Partner Portal you are able to improve communication with your team. You can send the details of the calculated commissions directly to your Partners thanks to reports and pay-out tailored to your business needs. Each person on your team can easily report any doubt, maximizing confidence and transparency.